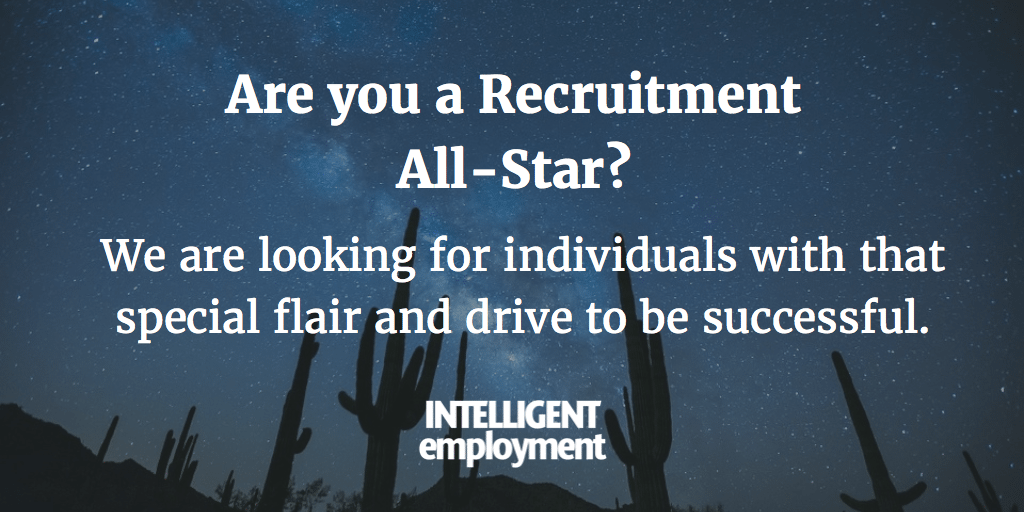 Are you a Recruitment All-Star?
Senior Recruiter positions available
Are you one or more of the following?
Sourcing Ninja | Champion of business development | Closer of opportunities | Hunter & Gatherer of unique talent | Seducer of candidates | Social media butterfly
Is the only reason you are a Recruitment Consultant because AWESOME isn't an official job title?
If you have answered yes to the above, we have fantastic opportunities available for recruitment all-stars. Intelligent Employment are a growing global recruitment company with offices based in the UK, India, and Singapore. We specialize in finding the unfindable candidates and filling the unfillable vacancies within the Energy sector and have a strong focus on our clients & candidates experience.
We are looking for individuals with that special flair and drive to be successful. Those who have shown they can adapt and evolve within changing markets, through peaks and troughs within their industry, and someone who is continuously striving to learn and develop. We are also looking for people who understand that recruitment is no longer just about sales, but about marketing, and as such you should be competent in personal and professional branding across various online platforms.
As a Senior Recruiter for Intelligent Employment, you will be tasked with the following;
Generating and developing leads, both cold and warm.

Pitching & Presenting, both over the phone and in person.

Negotiating terms of business.

Account Management ranging from SME's to Blue Chip organizations.

Searching and sourcing talent using Boolean strings.

Social media marketing/personal & professional branding.
We would like to hear from you if you have the following;
Positive attitude with a high activity level and a willingness to work in an agile and growing organization.

Professional personality with international experiences.

Interest in energy, renewable energy or clean technology.

2+ years working in recruitment.

Experience in B2B Sales & solution selling.

Excellent communication, telephone, and interpersonal skills.

Excellent English language skills, any other languages would be of value.

Willingness for national & international travel.
Perks & Benefits:
Competitive base salary | Uncapped Commission | Flexible working | Performance based incentives | Further training & Career development opportunities | International work travel
Get in touch with Simon Evans-Jones:
Tel: 01908 630630
Email: Simon@intelligentemployment.com
Connect: uk.linkedin.com/in/SimonEvansJones